I wanted to share a topic with you that I ruminate on ALL…. THE…. TIME. In fact, I often lose sleep over this, because I love the animals I'm honored to share my life with and I want them to always be comfortable. 
Winter and Cold. Brrrrr!!!!
For the first several years that I was rescuing animals, I would often lay awake at night during winter wondering if everyone was ok. I was worried because it was cold outside for me, and I was nervous that my animal family members weren't comfortable. One night (this was back in the early days) I even went out with a sleeping bag and slept in the barn with my three first goats. I woke up in the middle of the night cold, with goat poop on me, and I swear the goats had a very funny look on their face that said "mom, we got this. go back to bed." Needless to say that was a one time experience. 
Anyway, I'm guessing some of you share my concern and want to make sure your animals are happy healthy and cozy during the winter. Here in California, we are fortunate not to have the deal with ice storms, blizzards, and feet of snow. But it's still cold, so let's talk about how to put our minds at ease, and help our family members that need it stay cozy. 
The fact is, animals have much thicker skin than we do, and they have fur and feathers. They are insulated in a way that we humans aren't. Our pigs graze in the rain when it's 42, our ducks run into 36 degree ponds in the morning when I let them out, and our goats sleep under the stars by choice when it's freezing! They have their own coats that they wear every day! And we need to allow them to grow and use their coats. Much like with horses, putting sweaters or coats on them actually prevents them from growing their undercoats (cashmere, down, etc.) that will protect them in winter. This cashmere, in the case of goats, helps keep them warm when temperatures drop. I asked one of our vets about temperatures and goats, and he said that most ruminants are very comfortable around 49 degrees F, and start to get heat stress around 70! So what is an enjoyable summer for us can actually stress out our animal friends. They love it cold! That being said, there are always going to be those animals that need a little extra help in the winter; a mother giving birth in 10 degree weather, someone who is sick or recovering from surgery, a newborn kid lamb or chick, or an older guy or gal that needs help regulating their body temperature. And you can always consult your vet, or call us, if you need help with making that call. 
I've also visited many East Coast sanctuaries to whom I have supported and volunteered at over the years. They do not heat their barns except for the bird barns in severe storms. Their ruminants and pigs and horses do just fine, and it is far colder there than here in California. Whew! So good to know. Here are some great articles on how non-human animals are far more prepared to deal with cold than we are. These links are from a website called Thrifty Homesteader. While here at Goatlandia we don't condone breeding, milking for human use, or eating animals, the creator of this website and blog has covered some topics quite eloquently. I hope you find them useful. 
We've had numerous animals here with physical limitations or disabilities; blindness, an ill-recovered fracture resulting in a limp, and amputated limbs. At the current time, we have a dog born with only three legs named Nemo (below).
We also have a goat who injured his leg as a kid and had to have it amputated. This goat's name is Finnegan (main photo). He's a big beautiful Boer and he is not afraid to "grab life by the horns". We call him Fast Finny because despite only having three and a half legs, he's pretty darn fast!
Self esteem is defined as "confidence in one's own worth or abilities; self-respect." It's basically how we feel about ourselves, and it includes any judgements or opinions we have of ourselves. Growing up in our modern world, the unrealistic images of perfection and high societal expectations can wreak havoc on our self esteem and prevent us from truly loving ourselves. Cases of anorexia, bullying, self-harm and low self esteem are sadly on the rise, especially in young people.
One thing I love about animals is that they don't let self esteem issues affect their lives. They just figure out how to get life done, and they get about doing it. I love that! They don't spend time worrying about how others see them, or feeling sorry for themselves because they are not "perfect". They just get on living.
One of my favorite humans to listen to is Melissa Peer. She is a wonderful therapist that helps people clear the blocks to self love; allowing us to fully live the life we are intended. She has a mantra that I adore and it goes like this: "I Am Enough". It means that we are all enough; we are all worthy of love, and we all have value, and that our past traumas shouldn't haunt us moving forward. This mantra can help us humans learn to accept and love ourselves which is great! And, we can look to our spirit animal, the GOAT, to see that in action. Our animals with challenges don't waste time worrying, they know they are enough.
I've learned a lot from my animal family, and especially from Finnegan. He doesn't let his challenge slow him down, he just gets in there and runs like heck and gets things done. He loves his life, and he's happy with what he has. And through our visitor program, our animal therapy, and our kids camp, he's helping others find that joy too — including me.
This special edition of Ruminations is brought to you by Goatlandia's Sanctuary Manager, Meagan Dallas. She is responsible for animal care, volunteer coordination, and other organizational aspects of the sanctuary. Meagan is an active advocate for animals of all species and is vegan.
Summer is approaching and the weather is heating up here!
We are so privileged to live in such a beautiful place. I spend a lot of my days in sweaty work clothes taking care of the rescue animals. I walk the pastures to refill water buckets, clean up after them, and give out medications. I also stop to make sure they get their chins scratched, backs rubbed, and ears pet. I think to myself 'there is no where else I would rather be'. I wonder if the animals feel that way too. Like there is no where else they would rather be.
Our sanctuary is a place of refuge, where we value each individual and each life. We rescue animals from trauma situations, neglect, abuse, and some of the most horrific conditions one could be subjected to living in. I've been rescuing animals for a lot of years and I have learned a lot from them.
One of the most impactful lessons I have learned from rescue work is not about handling a large goat or administering a vaccination, but about the nature of love. For one, I learned that love is forgiving. So many of our animals arrive here and have only known fear and sadness. Oftentimes they have never felt kindness from a human being before. These rescue animals have taught me you can forgive and open your heart to love someone even after you have been wronged.
The rescue animals also taught me that love is brave.
So many of these animals have been abused and exploited by humans. Yet, they come back to us humans showing incredible levels of trust and vulnerability. How many of us would have that emotional courage? I aspire to do the same with people who have caused me harm or fear. To be brave enough to reconnect. To trust. To love.
The most important lesson I have learned from these rescue animals is that love is forever. The connections we form with other beings, human and nonhuman, those go to the core of who we are. My heart is completely filled with faces of animals I have known over the years. Some who I see every day at Goatlandia, some who have found incredible forever homes, and some who have since passed away. Those connections will endure forever because our love is true.
I don't know enough about animal psychology to know if our animals can truly comprehend their luck in landing at this small farm animal sanctuary in California, but, I do know that they feel happy and loved here. I know that they have been rescued, and through that process, I have been rescued too.
On February 23, 2022, I shared a video about four baby goats we rescued. They were being sold at an auction, but no one bid on them. This is a message I recorded after several sleepless nights, trying to save their lives.
Ah... love. We all want to love and be loved. And falling in love is one of the most thrilling human experiences. Scientific studies have shown that feelings of love cause our body to release feel-good hormones and neuro-chemicals that trigger specific, positive reactions.
But is this true for animals as well? Do goats feel love? Do they love others? I believe the answer is YES! Just like us, they want to love and be loved, and be close to those who they love.
Goats will show affection for people by approaching them calmly, leaning on them, and by showing positive peaceful eye and body contact. I've had the pleasure of having many goats both large and small approach me in the pasture, and sit or lay down with me and sometimes cuddle and fall asleep.
Goats show love and affection not only to humans, but to other goats and other animals! When in little herds of two or more, goats display friendliness to each other in many ways, including body language, closeness, and vocalizations. For instance, they will often huddle and cuddle together. They also make a point to do daily activities, such as eating meals and even sleeping at night or napping, with each other rather than alone. Mother goats (nannies) will call out to their kids (babies). They have distinct voices and recognize each other.
And goats feel emotions from others too! Frans de Waal, a primatologist and expert in animal cognition at Emory University, said: "Goats being sensitive to the emotions of others is a form of empathy. Empathy is a mammalian trait, so this makes sense."
So do goats fall in love? Absolutely. And we fall in love with them right back.
We've got a special New Year's message for you from Goatlandia's founder, Deborah Blum (and Ollie the goat):
It's a Brand New Year! And with every New Year comes the New Year's Resolution. Do you have one? I do, and I'll share it with you later.
What is a resolution? A resolution is simply defined as "the act of finding an answer or solution to a conflict, problem, etc.".
A New Year's Resolution doesn't have to be about losing five pounds, or getting more organized, or saving money. Those are all great things to do, but let's take a fresh perspective on this idea of "resolution". Let's look outside ourselves this year. Let's find a problem around us and let's fix it. Let's make the world a better place, starting with our own little corner of it.
With your support, Goatlandia identified needs in the community, and we found solutions and solved problems. We helped the animals, the people, and the planet.
• Through our animal rescue work, we've saved hundreds of animal lives, and helped rescue many hundreds more from disasters including fires and floods.
• Through our food events and programs, we've fed delicious vegan food to thousands of people, and created healthier & happier humans in the process! (and created quite a few vegans!)
• We've lifted the spirits of disabled children and adults in the community simply by sharing the unconditional love and gentle touch of animals with them through our animal therapy program.
• Through our sanctuary visits and tours, we've shown people the enormous power of love and compassion - the power to heal every one of us, human and animal; physically, spiritually and emotionally. We've inspired people to be kinder to others, including animals.
• We've helped the planet by teaching our volunteers, visitors and friends about all the ways we can help Mother Earth; from eating vegan to composting waste, from grey water reclamation to rainwater capture, and even using toothpaste tablets and detergent sheets!
We did this with you, and we thank you! Every dollar donated to Goatlandia goes to help us do this important work. We may be small here at Goatlandia, but we work hard, we love hard, and we are so grateful to all of you for sharing our vision of a kinder world. All of you, the Goatlandia family of friends, supporters, donors, colleagues, co-workers, volunteers, all of you have been helping us make our collective corner of the world a better place.
So what's your New Year's Resolution?
Mine is this: To strive to become a better person, so that I can better serve our mission. I want to look outside of myself more, for I already have all that I really need. To worry less about my own wants and needs, and to be fulfilled by the act of giving and helping. I want to listen more to others, to feel more for others, and to give more to others. Just as an athlete trains for a sport, I want to train myself to be an even better advocate for kindness, and to be a more empathetic and open-hearted soul. Remain curious, listen to others, and seek for ways to make their lives better. And in doing so, we enrich our own.
At Goatlandia, our goal for 2022 is to continue to look to the community and see how we can meet needs, solve problems, reduce conflict, and spread peace, health and love. Thank you for being on this journey with us, for helping make all this happen. We hope you'll join us again in 2022 as we move forward and upward, in this new fresh beautiful start of a year.
"All advocacy is, at its core, an exercise in empathy." ~ Samantha Power
With love, empathy and gratitude,
Deborah
1 cup soaked cashews
2/3 cup just mayo
¼ water
¼ cup bubblies pickle juice
1 T lemon juice
1 T Dijon mustard
1 T nutritional yeast
½ T balsamic vinegar
5 cloves of garlic (confit ok too)
a small piece of nori
1 T capers
2 T diced shallots
Salt and pepper to taste
"Ruminations From The Goat Girl" featuries anything and everything from Goatlandia's founder, aka The Goat Girl, Deborah Blum. Follow Deb on Clubhouse and on Instagram @GoatlandiaGirl
"Grief is not a disorder, a disease, or a sign of weakness. It is an emotional, physical and spiritual necessity, the price you pay for love. The only cure for grief is to grieve." ~ Earl Grollman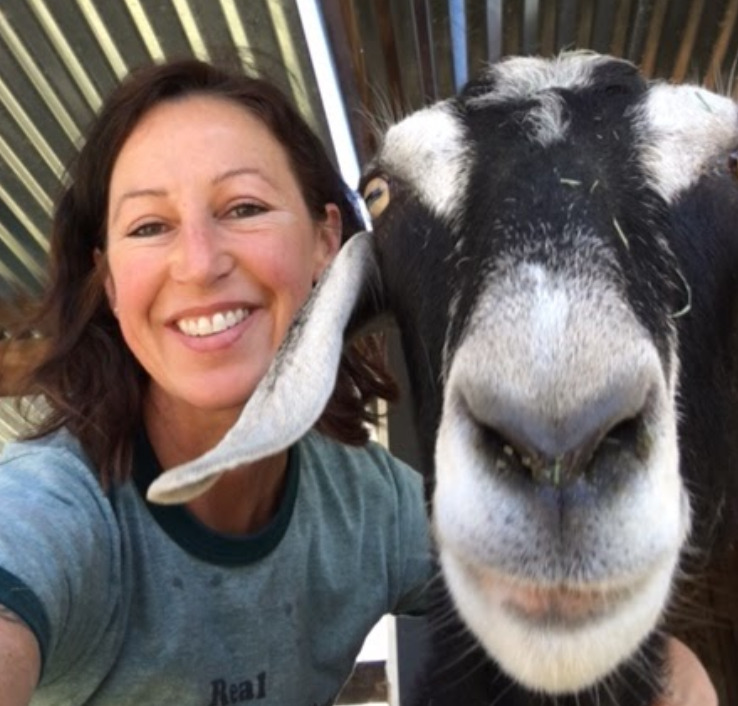 Death is a funny thing; it's something that we often hide from, try to evade or "cheat".
Most deaths, whether human or non-human animal, are neither pleasant nor on the terms we envisioned. Most of us don't think about death when we're young; it's an abstract concept that feels so far away, until someone we love dies. My first real experience with death was losing my father suddenly at 21. I felt it, even though I was miles away in a different city. I felt the tug on my heart and a black hole of pain, and I curled up on the foot of my bed fully clothed and slept.
Although I didn't know exactly what had happened, the next morning when I saw my mother outside my house, I knew. My father had made the prediction (at age 25) that he would not live to see 50. He lived a humble yet interesting life full of friends and experiences and was a smart, wonderful, funny and incredibly generous man. Just as he predicted, he died unexpectedly and promptly at 48.
Since then, I've contemplated death a bit more.  I've read books about life after death, reconsidered "faith", and I've wondered how and when I "would go".  I've since lost so many loved ones and friends, many of them animals, and I think of them every day. When I started Goatlandia, I did so because I believe that all animals deserve a life full of joy and happiness, and I wanted to do my part. Now, part of my job is making the difficult decision to help souls pass. It's made incredibly more difficult by the fact that I've built relationships with these wonderful beings, and I miss them terribly when they leave.
As human beings we have the ability to speak and communicate our pains, our fears and our desires. By contrast, with animals, we have to use our best judgment, our intuition and our knowledge of their personalities to ascertain what they want and/or need. We have to decide how to free them from suffering and when; even in the midst of our pain and grief. The compassion fatigue and the sadness are some of the heaviest burdens we bear in this work, but the gift of a painless and timely passing is one that I am committed to giving all our animals at the time when living no longer brings any pleasure.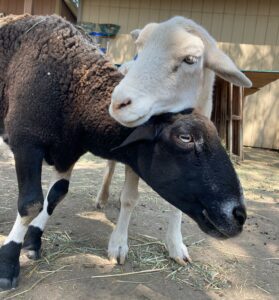 I had to make this painful decision three times in the last week; for two of our sheep, Ada and Fiona (pictured above), who we rescued as seniors and for whom we did everything we could to extend their happy lives into their golden years, and for Noah (pictured with me in his younger years), who we lovingly called "the Mayor". We believe Noah had cancer but despite numerous tests and treatments, we were unable to precisely diagnose or cure what was going on with him. Today, I knew it was time.
Noah's eyes were closed, his head was down. He wouldn't eat the apples I offered him, and he was a skinny shadow of his former joyful, social, bouncy self. I wrote this sitting in the barn with Noah, giving him as much love as he would take from me in his state of sudden discomfort, as I waited for the vet. It was both incredibly painful and also strangely peaceful. I had to go back and edit this after our vet left, and it hurt so much to change the verbs from present tense to past.  And I cried. I cried a lot. I wept for him; that something took his life in his middle age, that Fiona and Ada our golden girls are gone, but mostly I wept for me - for my loss, for my pain, for this difficult duty that is mine alone.
Rescue work is beautiful but very hard. There is so much joy but also lots of tears. While Fiona, Ada and Noah's bodies are gone, their spirit lives on and the love they gave us remains alive in our hearts. Where they have gone, we will too. I'm so grateful for the veterinarians we use, who have taken an oath to end animal suffering, and who are here to help us with this very difficult duty.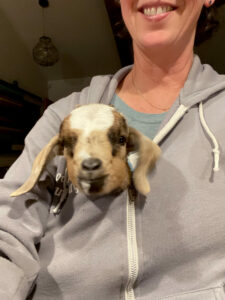 As I gazed at our newest three-week old rescued baby goat, Ollie, this morning, curled up and sleeping like an angel, I was reminded of the circle of life. We are born, we live, and we die. As some animals pass, new ones are born and come into our family. Our animals here have a life free from harm, and full of love, friends, delicious healthy food, and lots of fun.  The final gift that we can give them is the gift of a death that is timely, peaceful and painless; surrounded by those who love them.  It's a gift we all should all be so lucky to receive.
It was June 1969, and the Stonewall riots in Manhattan were a catalyst for the equal rights movement for LGBT people. Fifty-two years later, we are celebrating PRIDE in a big, bold way, all over the world and for a whole glorious month. The words "gay" or "queer" are no longer regarded as something shameful and wrong. "Queer" is now sexy, empowering, liberating, inclusive, and beautiful.
And, we are embracing even more ways to identify sexually and romantically:
Homosexual, pansexual, omnisexual, polysexual, bisexual, aceflux, asexual, demisexual, graysexual...
We can choose not only who we feel we are and how we identify and present ourselves, but we can also choose which "gender" we are attracted to and share our love with.
True equality is something meant for all of us, and how wonderful
to finally see the LGTBQIA community receiving the respect and
freedom it deserves.
For many of us in the animal rescue world that desire for equality; that respect for life and choice - that extends to all beings. This includes not just humans, but non-humans as well. We think animals should be allowed to express themselves (and yes, there are non traditional relationships in the animal kingdom as well). They should have a life free from harm and torture, one where they can choose their friends and their loves, and engage in activities that make them happy.
"This world would be a whole lot better if we just made an effort
to be less horrible to one another."
~ Ellen Page
Ellen Page is not only a very talented actress but a member and supporter of the LGBTQIA community and a vegan as well. We thank you Ellen for this statement and wholeheartedly agree. Let's be better to each other, including animals. Let's recognize the rights of every being. Let's live and let live, let's celebrate diversity, freedom, and love, for ALL.
An Annual LGBT Pride Celebration
Every year, during the month of June, the LGBT community celebrates in a number of different ways. Across the globe, various events are held during this special month as a way of recognising the influence LGBT people have had around the world. Why was June chosen? Because it is when
the Stonewall Riots took place, way back in 1969.
As well as being a month long celebration, Pride month is also an opportunity to peacefully protest and raise political awareness of current issues facing the community. Parades are a prominent feature of Pride month, and there are many street parties, community events, poetry readings, public speaking, street festivals and educational sessions all of which are covered by mainstream media and attracting millions of participants.
The New York Pride Parade is one of the largest and most well known parades to take place, with an estimated 500,000 people participating in it by the time it had reached its 25th anniversary.
Pride Month is so important because it marks the start of huge change
within the LGBT+ community, as well as the wider societal implications.
Although attitudes and injustice still remain, we have come a long way  since the riots of 1969 and by continuing in this long standing tradition we continue to raise awareness, improve the attitudes of society and encourage inclusiveness. #Pride2020
What were the Stonewall Riots?
The riots were prompted by a raid that took place during the early morning, at the Stonewall Inn in Greenwich Village, Manhattan. The LGBT community held a series of spontaneous, often violent demonstrations to protest against the raid and calling for the establishment of places that gays and lesbians could go and be open about their sexual orientation. In such places there should be no fears of being arrested. The riots served as a catalyst for the rights of LGBT people, and within 6 months, 2 gay activist groups had formed in New York. Over the years since the event, many gay rights organisations have been formed. Not just in the US but around the world.
What is LGBT or Gay Pride?
It is a movement that celebrates sexual diversity. For lesbian, gay, bisexual
and transgender (LGBT) people it is a way of protesting about
discrimination and violence. It promotes their dignity, equal rights, self-
affirmation and is a way of increasing society's awareness of the issues
they face.