Goatlandia is a small organization, but we've got a big heart and a big family to match. Having such a big family is a lot of work. Our animals eat several times a day, need fresh, clean water, a safe and cozy shelter to get out of the weather, things to play on, and of course, love, attention, belly scratches. You get the idea!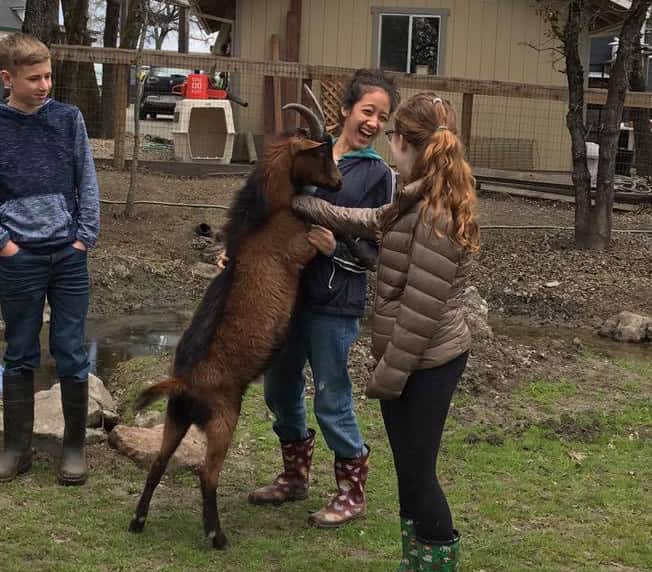 Our volunteers are amazing, hard-working, and dedicated animal lovers, and they're a huge reason behind our organization's success. We are incredibly grateful to our volunteer team, and we couldn't do all this incredible work without them. It's not easy work; some days are bright, sunny, and fun, and some days are wet, rainy, and cold. But it's all worth it to make sure our family is healthy, happy, and safe.
Volunteering at Goatlandia also provides people the opportunity to spend time with our animals, which can be enjoyable and even therapeutic. And we think it's great exercise; way more fun than the gym!

Sound fun? We think so too. There are two ways to volunteer; one is as a Regular Team Volunteer, and the other is by dropping in on our Group Volunteer days (no application needed).

** A few important details to take note if you are interested in becoming a Regular Volunteer:

1. We currently have two locations; our existing location in Santa Rosa and our new main location in Sebastopol. Our Santa Rosa location will be closing this Winter, so new Volunteers will be trained and volunteering in Sebastopol. If you are interested in doing an afternoon/evening shift, you will be required to complete several morning training sessions in preparation for other shift times.

2. Volunteers must commit to one shift per week for a minimum of 6 months.

3. Our regular volunteer shifts are from 8:00 AM to 11:00 AM. Monday through Sunday, and afternoons and evenings depending upon season and sunset times.